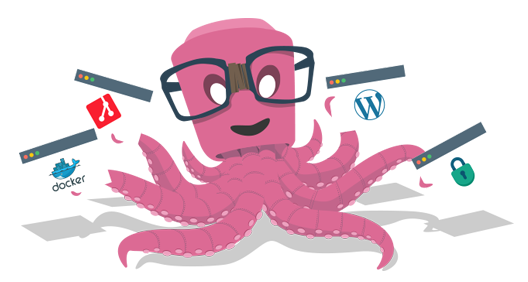 Simplifying the lives of web professionals
GET IT THROUGH OUR LAUNCH PARTNERS!
"The smoothest upgrade from everything that rocks about Plesk 12.5."
Simplify it all
Spend less time repeating tedious tasks.
Enhance control by enabling role-based access.
Build secure applications more frequently, with lower failure rates.
Achieve continuous delivery by deploying via Git and Docker.
Easily distribute webspaces and subscriptions on connected service nodes.
Reduce outages to avoid loss of sales.
Automate deployments on a minute-by-minute basis.
Manage multiple accounts with ease-of-use.
Enable backups for faster recovery from failures.
Control core administrative tasks via mobile.
Become a higher level IT performer.
Plesk Onyx Platform
Ready-to-code environment. with PHP, Javascript, Perl, Ruby, Python, Java,.NET support in an intuitive interface
Broadest Set of Website Services (Apache with PHP, NGINX with powerful caching, SSL & FreeSSL support, CDN Support
Top notch integrations for Developers (XML, API, Powerful SDK)
The only OS agnostic platform with feature parity on 14 Linux (including Ubuntu 16.04) distributions and 4 Windows server versions (including 2016)
Runs perfectly on major cloud platforms such as AWS or Azure
Intelligent Maintenance (Server-Auto-Repair, Powerful Log Browser)
Specific tools for managed WordPress hosting and mass management
Entering a world of Agility
A lightweight Plesk core with all new features delivered as extensions


Deploy apps and websites in Plesk from local/remote Git repositories. Integration with GitHub and Bitbucket.

Secure and mass-manage all WordPress instances, plugins and themes with this powerful tool.

Easily deploy Ruby apps on your domains. Both Ruby on Rails and Sinatra frameworks are supported.

Lets you deploy Node.js apps, start/stop/restart them, install NPM packages, edit config files and more.

"We are very excited about the launch of Plesk Onyx that provides everything that web developers love."
Ray Zheng, CEO Racent (China)

"Plesk Onyx is a great developing tool for IT professionals. Its new features ease most of the daily tasks in website administration, even if they are managing a huge number of sites created with different apps and technologies. In Arsys we are focused on facilitating the day-to-day work of technical teams on their way to the Cloud, so Plesk Onyx is the perfect complement to our solutions."
Susana Juan, Sales Manager of Cloud & Servers Arsys (Spain)

"Plesk Onyx is truly a revolutionary version of Plesk; I love Multi Server feature that allows centralized account management across multiple Plesk instances."
Dakshesh Verma, Head of Marketing ZNetLive (INDIA)

"I like to think that the strength and power of Plesk is at its core and the flexibility and functionality is in its extensions."
Jamin Andrews, CEO Conetix (Australia)

Leave your feedback below. Thanks for your contribution!