How to get a trial license for Plesk?
Answer
Note: a free 14-days trial Plesk license can be requested only once per person/server for testing purposes. When it is expired, please consider purchasing a new commercial Plesk license.
Note: Plesk Partners should contact the account manager or submit a request for Plesk License support
Click on a section to expand
For a Self-Hosted Plesk server (14-day full-featured trial license):
When Plesk Obsidian installation will be finished, log in to Plesk using the link suggested by Plesk Installer. On the following screen, select "Proceed with a full-featured trial license":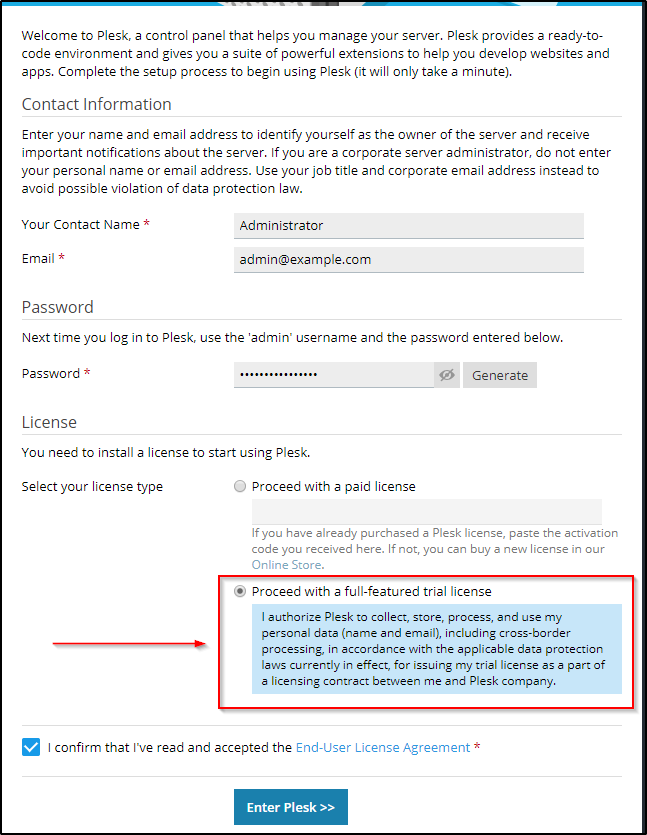 Note: with this selected option it is possible to submit a request to Plesk Technical Support.
For Cloud Platforms:
There are 2 main types of Cloud instances with Plesk (https://docs.plesk.com/cloud/):
Instances that already include Plesk licenses. Conditions for the trial period should be checked in the description of the instance.
Warning: please do not install a trial license manually, as it is not possible to roll back to your previous license included in the instance
Instances that do not include Plesk licenses (BYOL). For this type of instance, to get a trial period please refer to the options above.
Notes:
Deploy the Plesk trial only on servers dedicated for this purpose. Plesk software is designed to take full control over the server it is allocated to and cannot be deleted without reformatting the server. Check software requirements for more details.
Plesk trial licenses are fully functional. Plesk server data will remain intact after re-activating it with another Plesk license (paid one).