We have great news! From today onwards, you can get detailed performance data of your Plesk web infrastructure and applications with the New Relic extension on Plesk. Read on to find out how this newly-updated, handy extension can benefit you, your infrastructure and applications.
Post updated on April 26, 2018
What's New Relic?
New Relic is an analytics software company that specializes in monitoring and analyzing web servers and web applications. With New Relic, you gain access to plenty of analytics tools to measure and monitor performance bottlenecks, throughput, network graph, server health and many more – all almost in real-time.
The New Relic Plesk extension seamlessly integrates with your Plesk server, and supports the two most important tools by New Relic:
APM for Application Performance Monitoring and Management
INFRASTRUCTURE for Server Monitoring
Without a doubt, New Relic lands near the top of our must-have list for Web Professionals.
Feature #1: INFRASTRUCTURE
Monitors health and tracks capacity, memory or CPU consumption. The INFRASTRUCTURE component allows you to view and analyze critical system properties of your web server. This is a must-have product for monitoring important metrics such as CPU usage, physical memory, and running processes.

Once installed on the server, you will see all important data within minutes in your New Relic dashboard. You can create alerts to be informed if some metrics pass a critical condition.
Feature #2 – APM
Code level visibility for all your web applications. The APM (application performance monitoring) component delivers real-time, trending data and charts about your web application's performance down to the deepest code levels.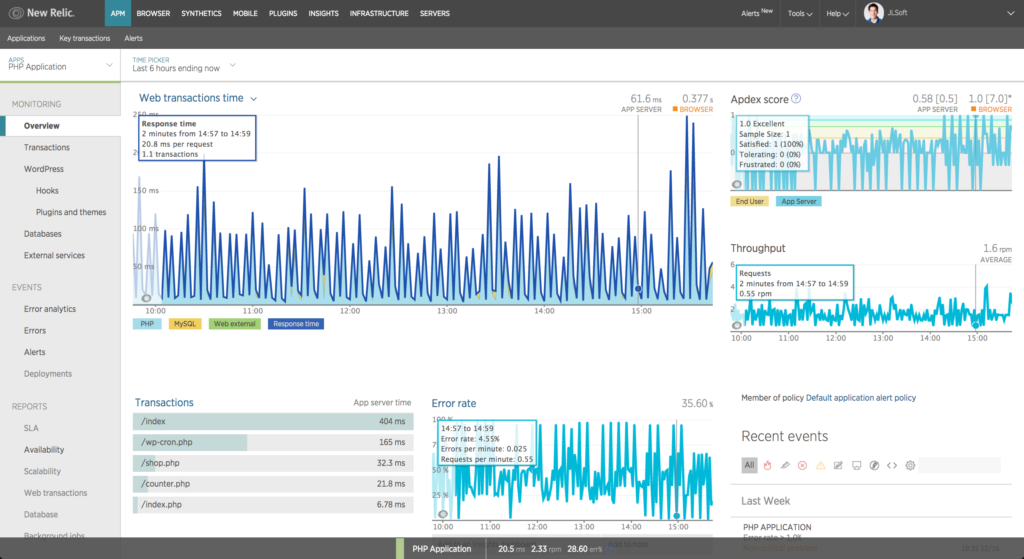 If you have a performance problem with your application, then you don't have to guess where the performance blockers are. APM supports 7 programming languages to analyze your web application source code, including PHP out-of-the-box. With the help of APM, you can determine whether the bottleneck is within your application, the web server or your database, helping you make quick decisions to enhance your user experience.
Activate Infrastructure and APM with one click
This extension integrates New Relic INFRASTRUCTURE and APM seamlessly into Plesk Onyx and Plesk 12.5. If you're a developer, DevOp or software company – Use this Plesk extension to understand how your applications are performing in development and production environments.
Meanwhile, there are stress-testing services like  Blitz, Stormforger or Loadstorm to simulate many website visitors. All while using New Relic to identify weak spots in your code.
How do I use the New Relic extension?
Easy!
Enter your New Relic license key
Enter your preferred server name
Click "Install"
Done!
License Key
You'll first, you need an account at New Relic to get your license key. But don't worry, you can quickly sign up for a free account with basic functionality.
The INFRASTRUCTURE component is available for free, but the APM component requires a paid subscription. However, you can test APM for a limited time span with your free account.
You'll find your New Relic license key in the "Account settings" in your New Relic profile. If you're convinced of the power of APM, just upgrade to an ESSENTIALS or PRO subscription. Your license key will stay the same and you can use the full power of the Plesk extension.
Server Name
You can specify a unique name that will be used as an ID within your New Relic profile. For example, you could use your domain name or hostname – whatever you like.
Install INFRASTRUCTURE: This option installs the INFRASTRUCTURE agent on your server.
Install APM: This option installs the APM agent for PHP on your server. To install the agent, you need to select the PHP versions your applications are using. This configures the APM agent properly in order to analyze requests handled by your applications.
The Operating Systems that this extension supports are: 
Ubuntu
Debian
CentOS
Red Hat
Free extension with sources available on GitHub
We love open source! So we also released the New Relic extension in our official Plesk GitHub account in a public repository.
We'd be happy to see your valuable input and contribution. Feel free to create pull requests or add GitHub issues to contribute to this project. If you like it, give it a star 🙂 Now, have fun and get rid of those annoying bottlenecks in your code!