Deploying Plesk Onyx on DigitalOcean is now easier than ever!
According to Alex Konrad, Forbes Editor of the Cloud 100 list, Cloud companies like DigitalOcean are revolutionizing how businesses reach their customers today, from digitizing painful old processes to allowing them more time to focus on what they really care about – what makes their products unique.
As a Web Professional (Developers, Designers, Agencies, IT-Admins) your goal is to provide valuable services to your customers. You want to be able to focus on the things you're good at. You want to be able to leave the nitty gritty of technical server management, cost streamlining, running instances, having backups, and account management to a virtual private server designed precisely for this purpose. In short, if you are tired of managing infrastructure and security when you want to focus on coding and improving your product or service offering, Plesk Onyx is the ideal solution.
What is Digital Ocean?
DigitalOcean is a cloud infrastructure provider that simplifies web infrastructure for software developers. Known for its "developer first" mentality, it was founded in 2011 with the mission of smoothing out the complexities of infrastructure by offering one simple and robust platform for developers to easily launch and scale their applications. DigitalOcean has become the second largest and fastest growing cloud computing platform in the total number of public facing apps and websites, according to Netcraft.
More than 750,000 registered customers have launched more than 20 million Droplets combined on DigitalOcean, nearly doubling from 10 million six months ago. The company is now investing heavily in advancing its platform to further support growing teams and larger applications in production.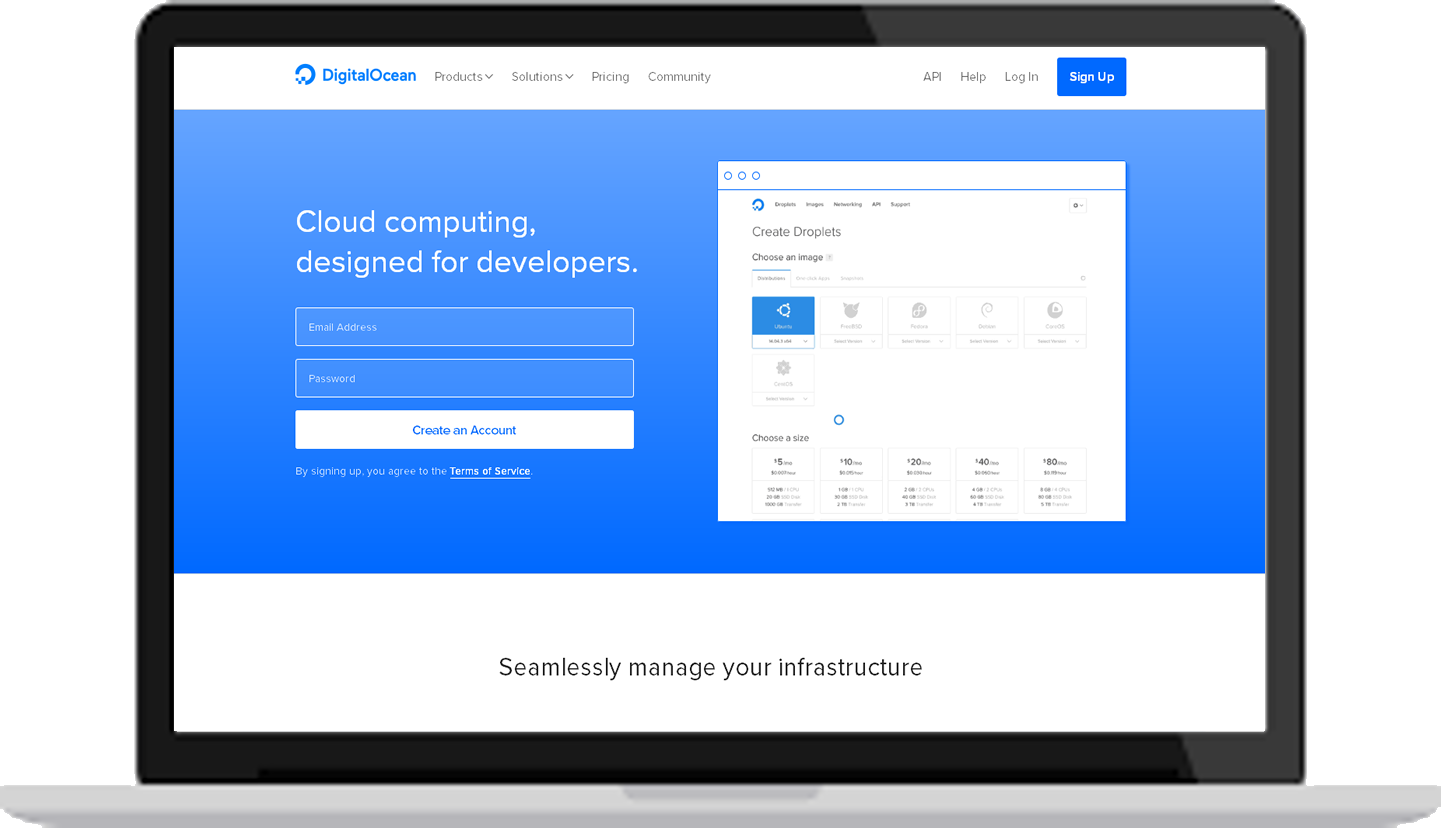 Image: DigitalOcean
What is Plesk Onyx?
Plesk Onyx is the new benchmark in control panels, and a perfect match with DigitalOcean. From speed to security to usability to cost, Plesk Onyx is the only tool you'll ever need to build, secure and run websites and applications on cloud servers and VPS's, faster!
Plesk Onyx allows server administrators to set up new websites, manage accounts and e-mail, and oversee DNS entries and other relevant networking data and specs through an intuitive web-based interface. It is an intuitive control panel that any customer can easily use. The latest version of Plesk Onyx supports multiple Windows and Linux distributions, e.g. Debian, Ubuntu, CentOS, and many more – meaning you have even less to worry about if you have a customized network setup or if you are unsure about compatibility.
Gain time, gain freedom.
Our biggest release to date simplifies the lives of Web Professionals by fully integrating Docker and Git. Server related tasks and components are automated to run and scale web projects as well as providing one-click web server security. The ultimate answer for Web professionals who work with SMB's (small to medium-sized businesses), we like to think of Plesk Onyx as a tool which empowers end users to easily deploy their web projects and get their MVP's to market sooner.
What are the benefits/features?
Build: Plesk's easy-to-use intuitive interface provides an environment for web professionals to code directly in. This allows developers and designers to focus on their business and develop web apps and sites that scale in the cloud.
Secure: It is not uncommon to have well-functioning websites that do not take security concerns into consideration. Such an approach can have huge negative consequences as your services continue to run and be exposed. An estimated 90% of web developers realize specific security concerns or loopholes in their application only after it is too late. Plesk will handle all security protocols and take necessary measures for you, automatically.
Run: Manage your WebOps: In the past, a team of tech specialists was needed to ensure that everything worked together throughout the running and deployment of any given web application. This meant that you had to have someone dedicated to ensuring that everything from the deployment, running, maintenance and security to the patching and repairing of your app or system, runs smoothly and successfully. However, with the progress of time, these tasks have become more and more automated, to the point where you do not need the same expensive technical resources you needed a few years ago.
Mass-management and security tools
The new Plesk Onyx also includes a tightly integrated set of mass-management and security tools that can be used to protect and automate WordPress. All Plesk-powered systems come with built-in server-to-site security, promising more reliable infrastructure and reduced support costs.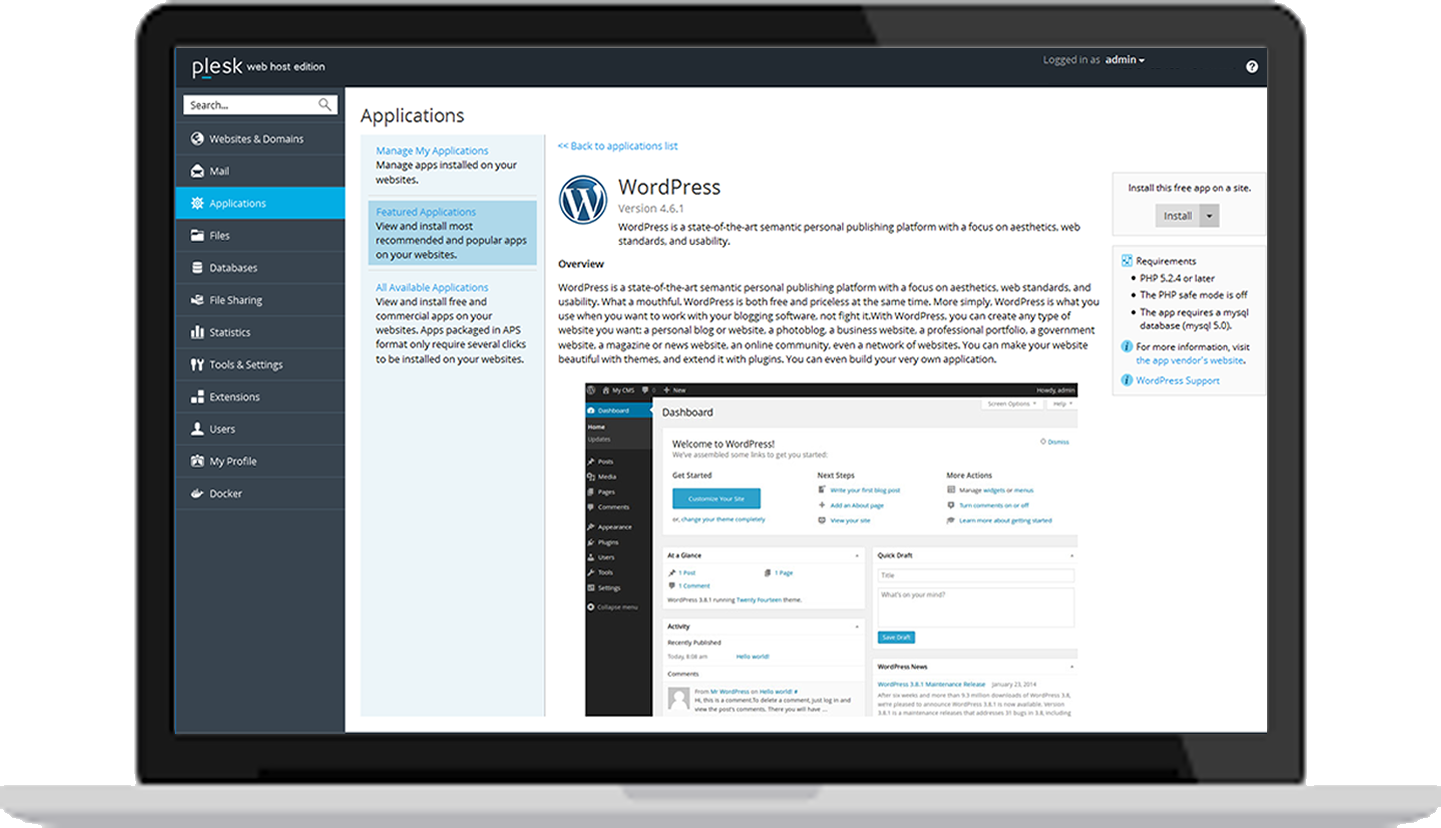 Image: Plesk Onyx
Plesk Onyx runs on DigitalOcean's cloud infrastructure, simplifying the lives of Web Professionals and providing the scalability, security, and performance that customers depend on.
Now that you're familiar with DigitalOcean and Plesk, you're ready to take the next steps. There's no better way of finding out about the powerful capabilities of DigitalOcean than by trying out the platform.
Getting started with Plesk and DigitalOcean
Note: Review the
Software Requirements
for Plesk to find what Linux distributions are supported by Plesk.
Quick Start Guide: Create a droplet
Log in to DigitalOcean and once in your dashboard click on
"create a new droplet".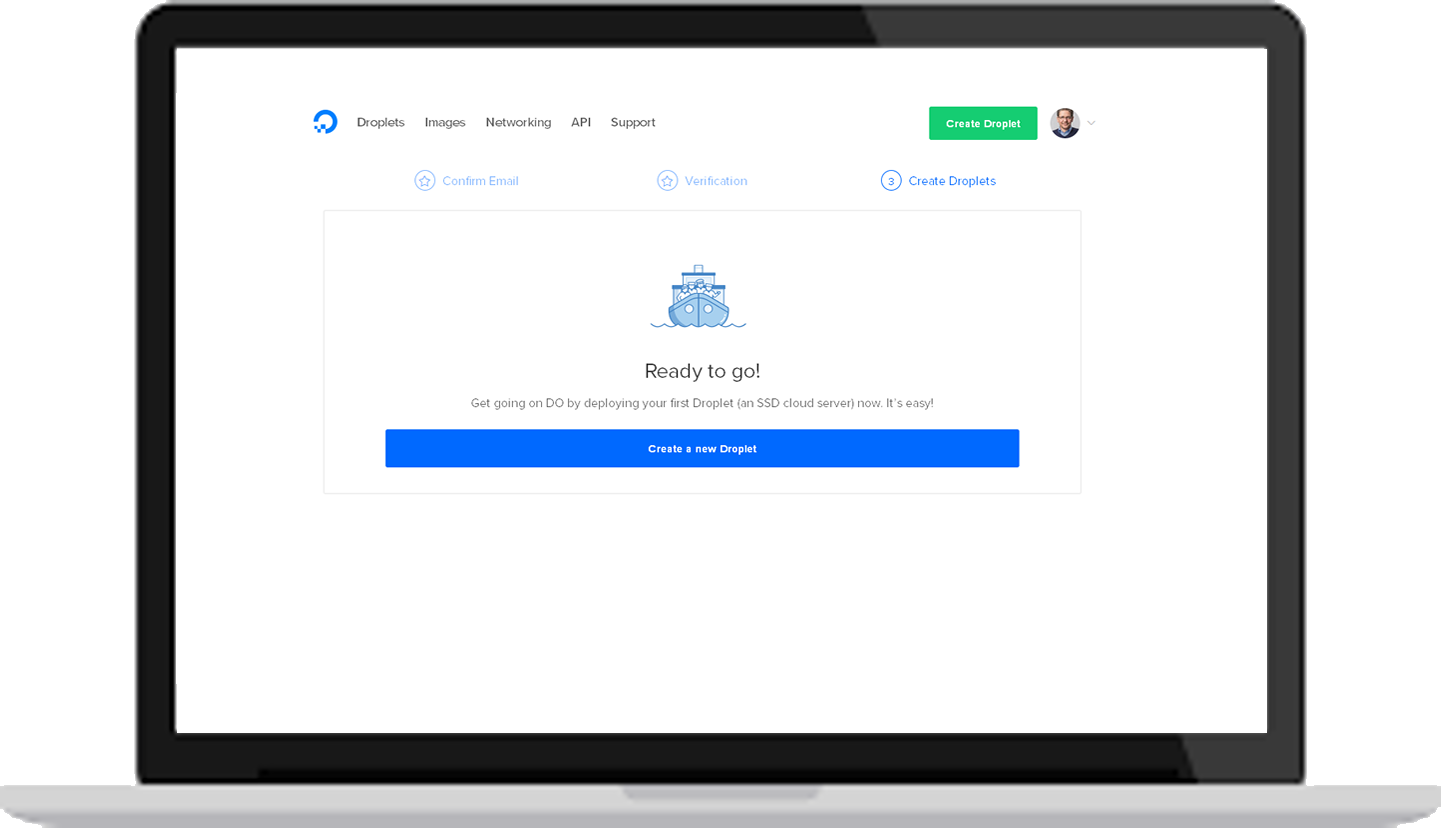 Image: DigitalOcean
When configuring the droplet, you will be asked to specify the following settings:
1.
First,
Choose an image.
You can select an image, e.g., CentOS or from an existing snapshot or backup.
2.
Then,
Choose a size.
I'm going to stick with a $10 instance for this demo, but you can do whatever suits your needs.
Note: If you need to improve the performance of your server, we recommend upgrading your Droplet. This will lead to better results in general and will decrease the likelihood of contributing to hardware issues that can affect your service.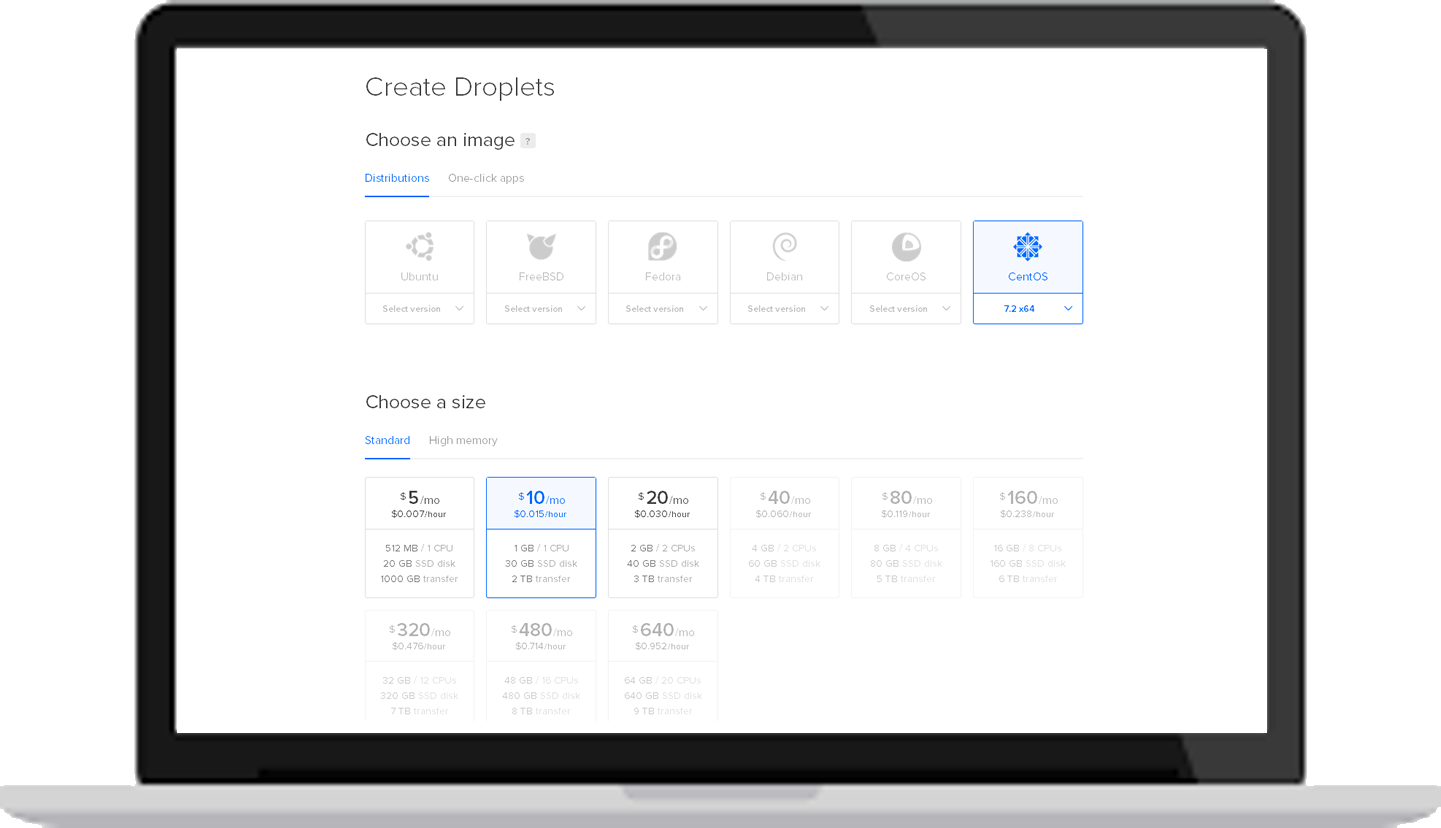 Image: DigitalOcean
3.
Add block storage.
Clicking the "add a volume" button will give you the option to create a volume or attach unattached volumes. Using the new volumes feature during creation will filter the available Droplet regions and will automatically assign the volume name.
4.
Choose a datacenter region.
I live in Hamburg, Germany so I normally pick Frankfurt. You can pick whichever is closest to you. Note: Each datacenter has different options available to it, including Private Networking, Backups, IPv6, and User Data.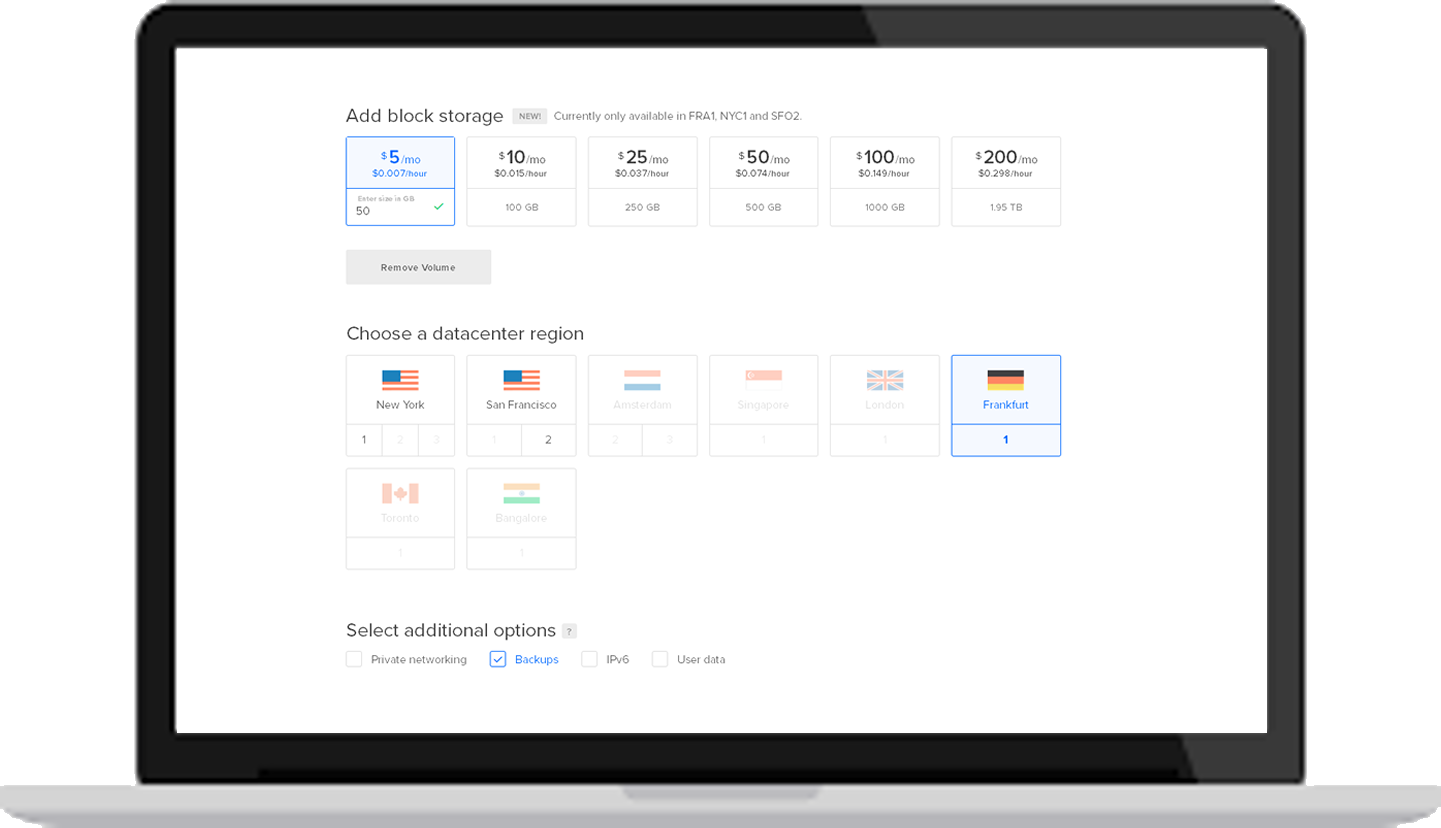 Image: DigitalOcean
Select additional options
5.
Each of the following options has to be turned on manually.
Private Networking: This allows droplets in the same datacenter to communicate via a second network interface (non-public) and doesn't count towards your bandwidth. Perfect for App API setups.
Backups: At a cost of 20% of the droplet cost ($5 + $1, $10 + $2, etc.), DigitalOcean will maintain a weekly backup for up to four weeks (each). This means that you will have a month's worth of backups for your droplet. Backups can be restored by creating or rebuilding a droplet and in the image selection choosing the 'Backups' tab and selecting the backup you want to restore.
IPv6: For no additional cost, DigitalOcean will give your droplet a second IPv6 IP address. This means your droplet can communicate via IPv6.
User Data: Selecting Enable User Data allows you to input a Bash script to customize your server during provisioning.
6.
Now that you've set your droplet options, it's come time to set up
SSH access
. If you already have your SSH key setup, great. Otherwise, the needed information on SSH keys creation can be found
here
.
7.
The last step in getting your droplet created is to specify
how many droplets
you want and to
give them a name
.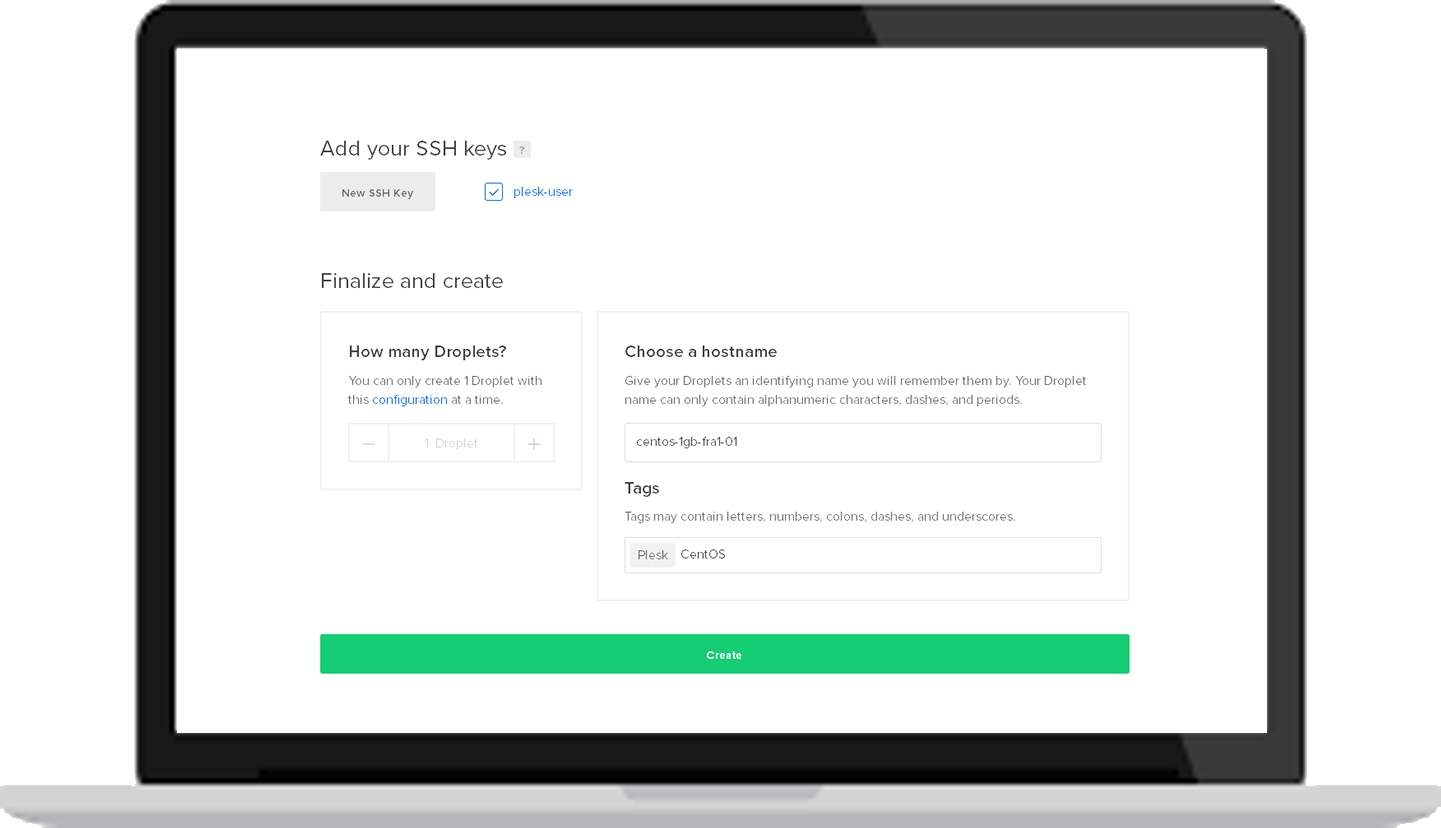 Image: DigitalOcean
Click Create and we're done!
Note: Choosing a hostname does NOT automatically setup your DNS for this droplet. This is only the case if you've pointed your domain's name server (NS) records to DigitalOcean.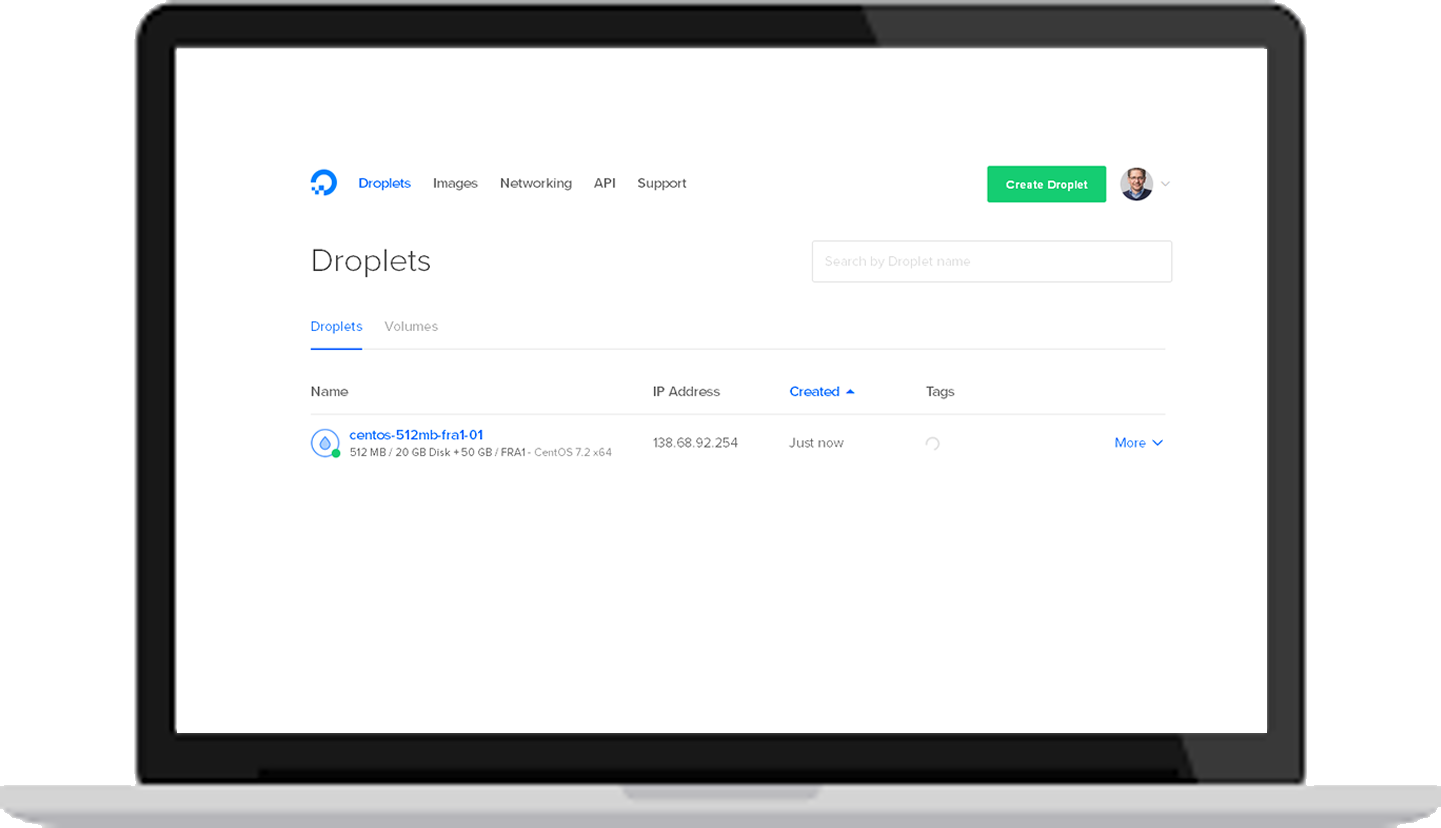 Image: DigitalOcean
Now it's time to install Plesk
and build something with your new server!
Connecting the instance via SSH
1. Open up your favorite SSH client application and connect to the instance utilizing the unique IP address assigned to the droplet, that can be found in your DigitalOcean Droplets page.
User name: The remote user to log in as. The default admin user, or Superuser, on most Linux servers is root.
Password and/or SSH Key: The password that is used to authenticate the user that you are logging in as. If you added a public SSH key to your droplet when you created it, you must have the private SSH key of the key pair (and passphrase, if it has one)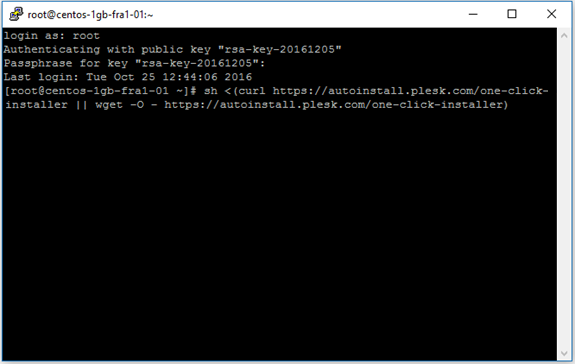 2.
Install Plesk using
One-Click installer
or run through Plesk Installation and Upgrade Wizard to deploy custom installation:
One-Click installer
Run the following command:
| | |
| --- | --- |
| | # sh ‹(curl https://autoinstall.plesk.com/one-click-installer || wget -O - https://autoinstall.plesk.com/one-click-installer) |
Custom installation through Plesk Installation and Upgrade Wizard
| | |
| --- | --- |
| | # sh ‹(curl https://autoinstall.plesk.com/plesk-installer || wget -O - https://autoinstall.plesk.com/plesk-installer) |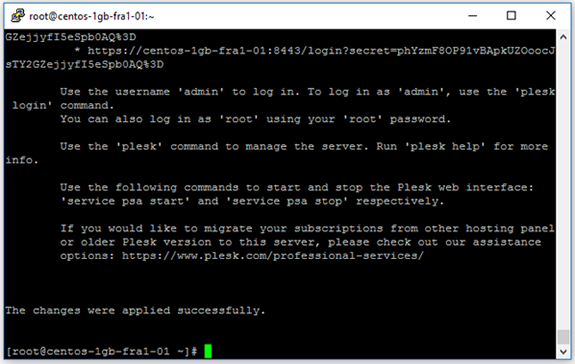 3.
Get a
one-time-login
for logging in to PleskRun the following command: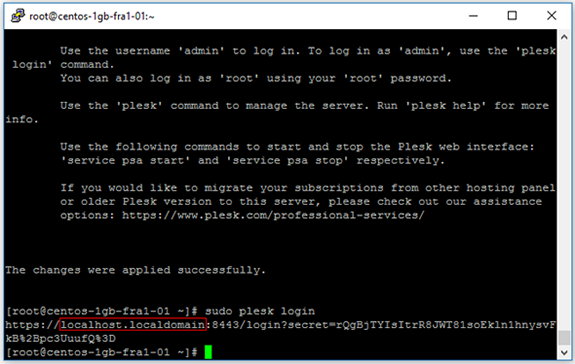 4.
Replace the hostname
with your IP address
to log in to Plesk.

Note: You cannot use the hostname based on the droplet name the first time you log in because Plesk has not passed the initial configuration and the full hostname has not been created yet.
Running the Installation/Configuration wizard
1. When you log into Plesk, you will see the View Selector page. On this page, you can choose the appearance of the panel as per your requirements.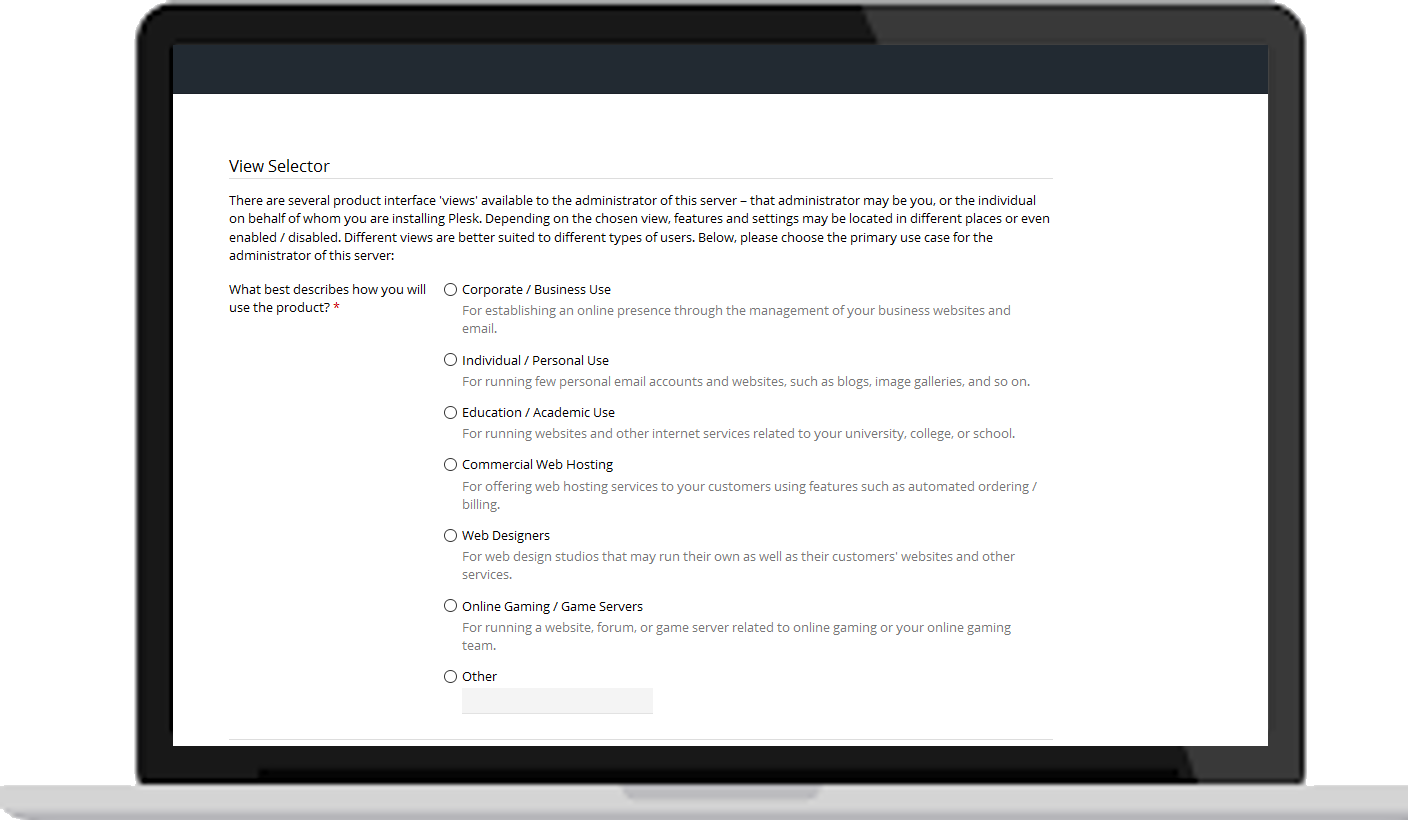 Image: Plesk Onyx
Once your purpose has been identified, a second drop-down menu will emerge asking you select your preferred layout. This can be changed later.
2.
Then comes the
Settings page
. Here you need to fill in your hostname, IP configuration, and admin password.
New hostname: Fill in your primary domain (i.e. testdomain.com).
Default IP Address: Leave the IP as default.
New password: Change the default administrator password.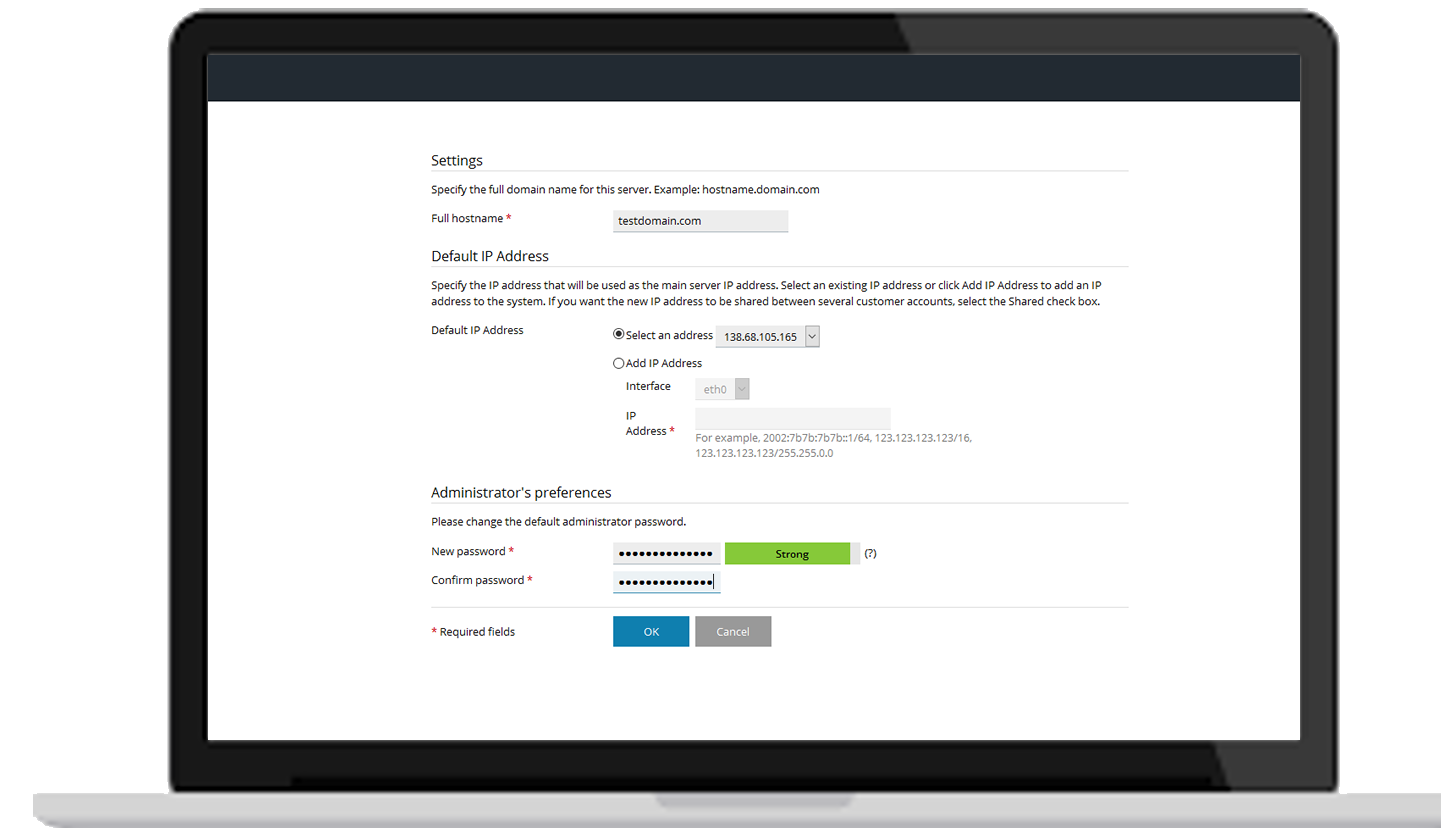 Image: Plesk Onyx
3. Next is the Administrator information page. Just fill in the information asked and proceed to the next page.
4. After that comes the license key install page. You can order, retrieve and install a 14-day full-featured trial license from this page. Since you have already purchased a license key, proceed with installing the license key.
5. On the Create your Webspace page you can specify the domain name of your first subscription, and system user account username and password that you will use to manage it. This will create a subscription for hosting multiple sites.
6.
Woohoo!
Plesk is now configured!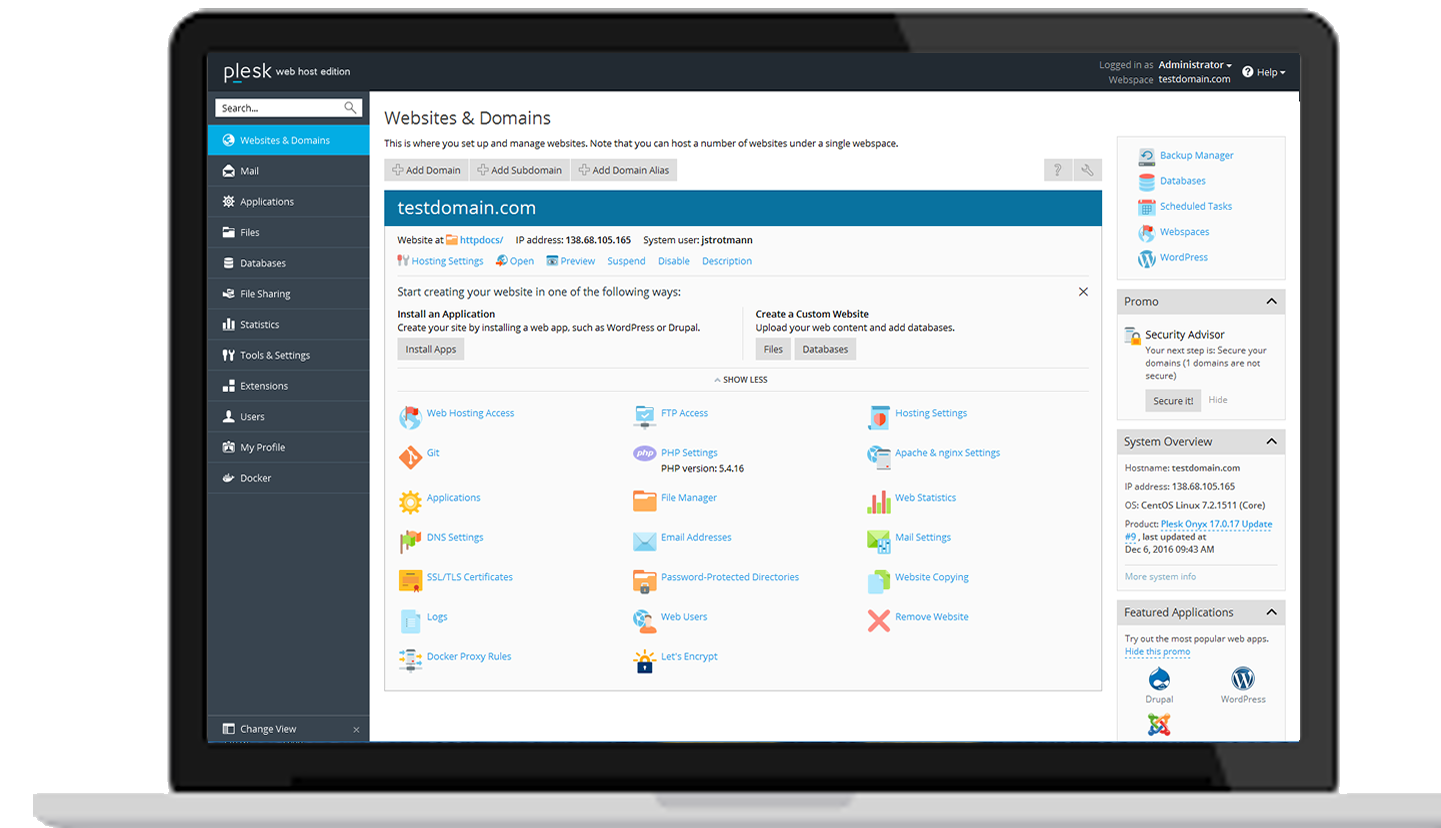 Image: Plesk Onyx
Thank you to DigitalOcean team for co-authoring this write-up and for providing feedback and technical insights on DigitalOcean.
Be well, do good, and stay Plesky!