Speed Kit makes websites fast!
Speed Kit is a one-click solution to accelerate your website.
By rerouting your web traffic through Speed Kit's caching infrastructure, it achieves a typical performance boost of 50-300%!.
Why's speed so important?
Page load time is money. Amazon found that 100ms of extra load time cost them 1% annual revenue – that's over US$1 billion every year!
Similarly, Google found that 500ms of additional page load time make 20% of all users abandon their search request.
The other way around, GQ experienced an 80% increase in traffic after improving their page load time from 7s to 2s.
Does Speed Kit work for you?
Get a free performance analysis to learn how you can boost your page load time: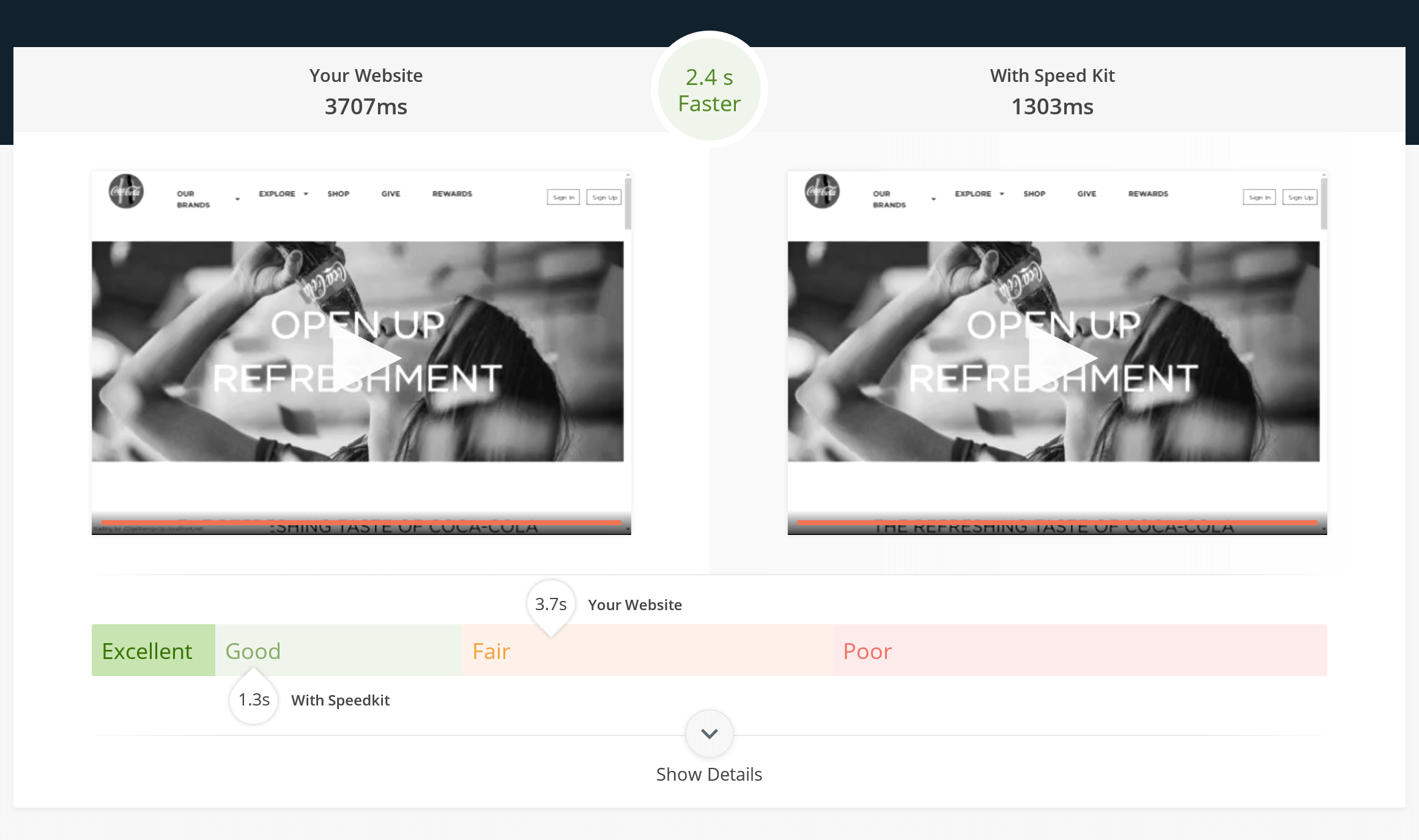 The built-in Page Speed Analyzer (above) collects the following performance metrics for your website:
Domains
Resources
Response size
Speed Index
Time to first byte
DOMContentLoaded
FullyLoaded
Last Visual Change
Thus, it shows you where there's room for improvement in your tech stack.
But the analyzer also shows you how Speed Kit can improve your performance right now:
To give you a feeling for Speed Kit's performance edge, the analyzer contrasts your current performance without Speed Kit (left) against the same website accelerated by Speed Kit (right) in a video comparison.
Speed Kit Explained
Watch this short video to learn how Speed Kit can help you boost conversion rate, decrease bounce rates, and improve more important business metrics: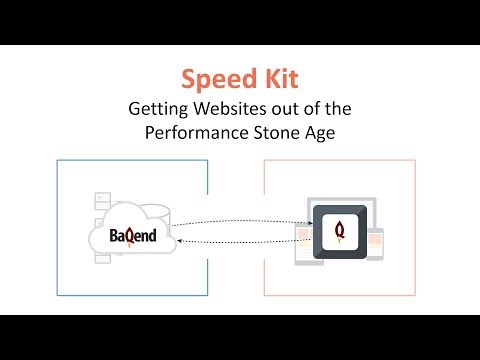 How does Speed Kit work?
In a nutshell, Speed Kit stores a copy of your website on our super fast caching infrastructure. Instead of fetching content from the original slow server, Speed Kit makes the browser of any user get the cached, accelerated copy.
So Speed Kit activates a Service Worker in the browser. Which intercepts and reroutes some of the requests while loading your site. As a bonus, the Service Worker technology turns your website into a Progressive Web App by default! Thus, your users can surf content that's already cached on their devices. Even when they have lost their Internet connection.
In contrast to state-of-the-art caching approaches, Speed Kit exploits the user's browser cache in addition to a traditional CDN (Content Delivery Network). This makes your website load in an instant!
To avoid stale data, we purge outdated copies of your content in our caches. Behind the curtains, we use machine learning to identify those copies as fast as possible.
Additionally, you can schedule periodic refreshes (default), refresh your content manually, or refresh your content programmatically by calling special API endpoints.
Who are Baqend?
Baqend, based in Hamburg, Germany, develop a cloud service using innovative caching algorithms in order to minimize website loading times.
Publishers, shops, startups, and SMEs all face the challenge of competing with giants such as Amazon, Facebook, and Google. So Baqend gives them a technical platform. Not just to catch up with the market leaders, but to turn page speed into their competitive advantage too.