Stack Overflow, perhaps the most prolific question-and-answer site for developers, conducts an annual survey of its user base. This year, more than 50,000 respondents in 173 countries contributed to the survey.
Star Trek vs. Star Wars
I deep dived into the huge amount of data to bring you the most surprising insights from it. Of course, I have to start with the most relevant data this year's survey collected—whether developers prefer Star Trek or Star Wars.
Devs in their 40's (that would be me!) prefer Star Wars whereas devs in their 50's are diehard Trekkies.  I think it's important to note that Firefly was the top write-in, followed by Stargate, Doctor Who, and Babylon 5.
Star Wars vs. Star Trek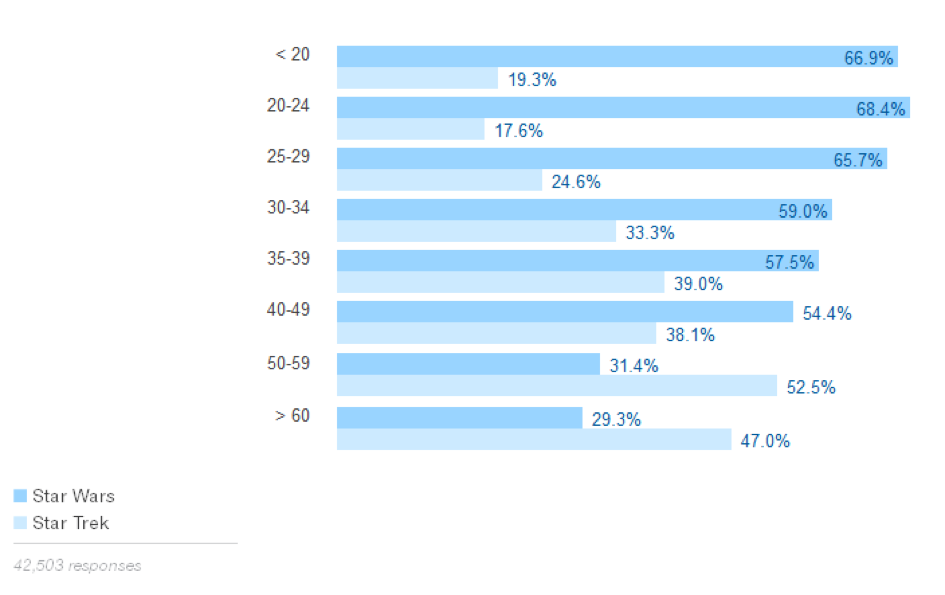 Image: Stack Overflow
How many professional developers are at Stack Overflow?
¨Professional developers, Stack Overflow estimates 16 million of those people are.¨ [1]
Geography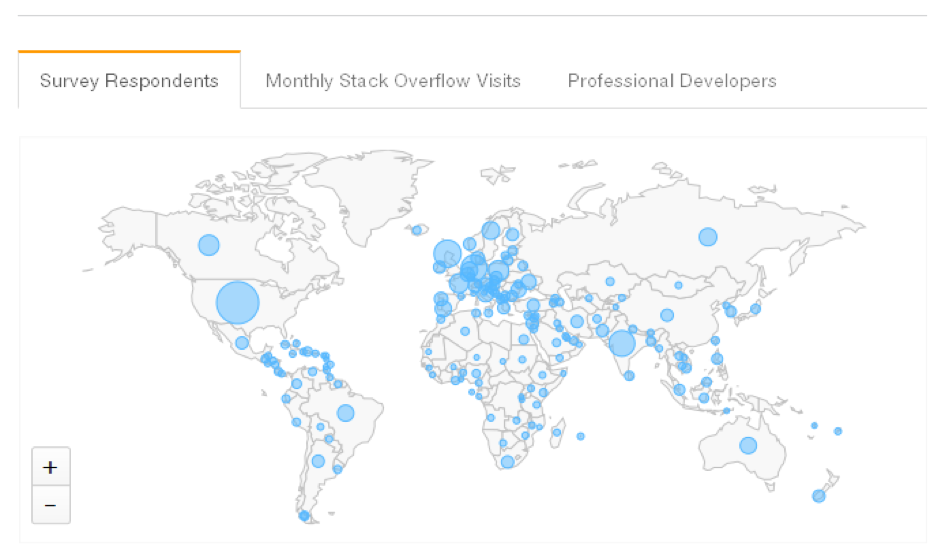 Image: Stack Overflow
In January 2016, 46 million people visited Stack Overflow to get help from or give help to a fellow developer. Stack overflow estimates 16million of those people are professionals.
Countries
United States: 3,869,095
India: 1,859,248
United Kongdom: 783,329
Germany: 744,940
Canada: 535,392
China: 372,730
Russia: 294,503
Brazil: 292,118
Australia: 240,658
Japan: 193,292
Mexico: 134,857
Everyone is "full-stack" now
"Much to learn you still have.… This is just the beginning.¨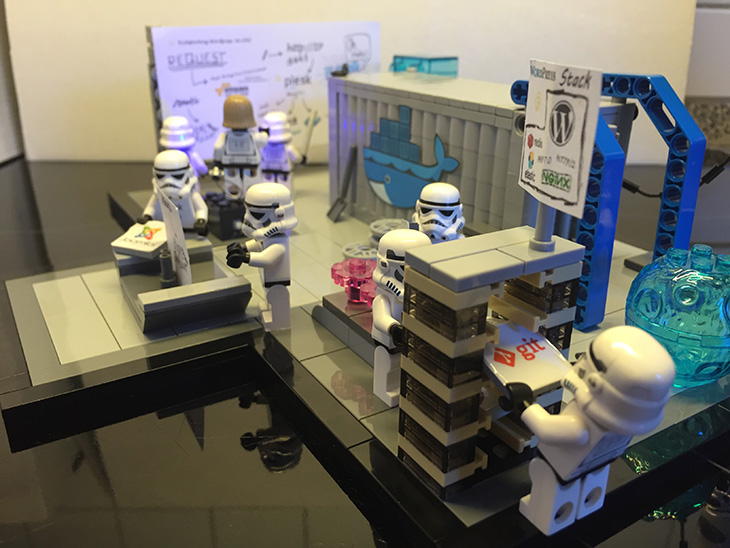 Image: Jedi Jörg Daydream
Developer Occupations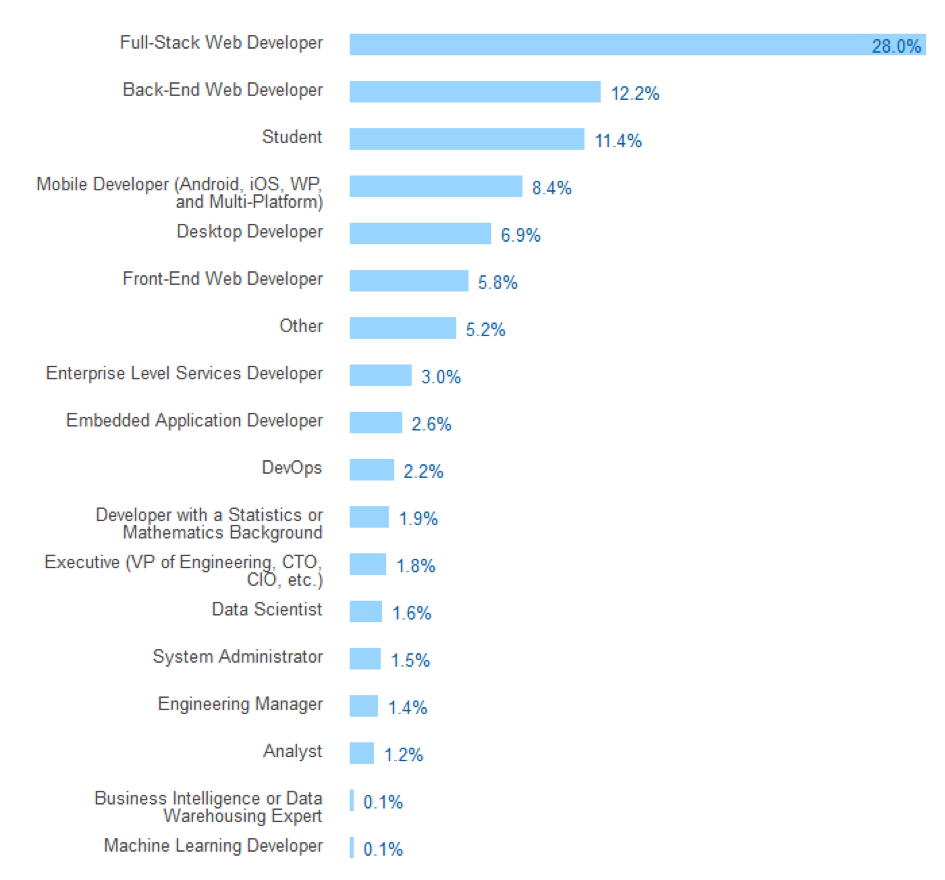 Image: Stack Overflow
28% called themselves full-stack developers, and the runners up were back-end developers (12%) or students (11%). According to the analysts, full-stack developers were comfortable using 5 to 6 major languages or frameworks, vs. 4 for all other occupations.
A full stack developer will benefit from knowing more programming languages as the basis for future growth.
Javascript is the King and SQL the Queen of the most popular technologies
"The most commonly used programming language on earth, Javascript is.  Hmmmmmm."
Most Popular Technologies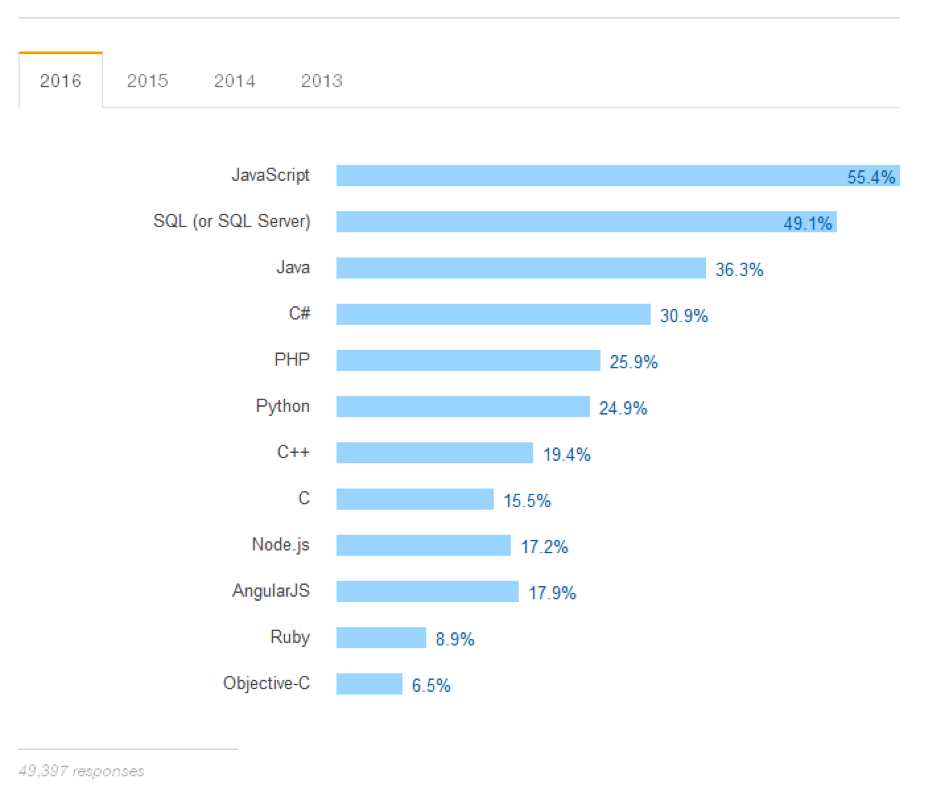 Image: Stack Overflow
JavaScript is still the most extensively used tool, with more than 55% of people saying they use the language. It's popular with developers who specialize on the front end. SQL has declined a bit in popularity, due in part to the rise of NoSQL databases like MongoDB, which uses JavaScript as its querying language instead of SQL.
Most Popular Technologies per Dev Type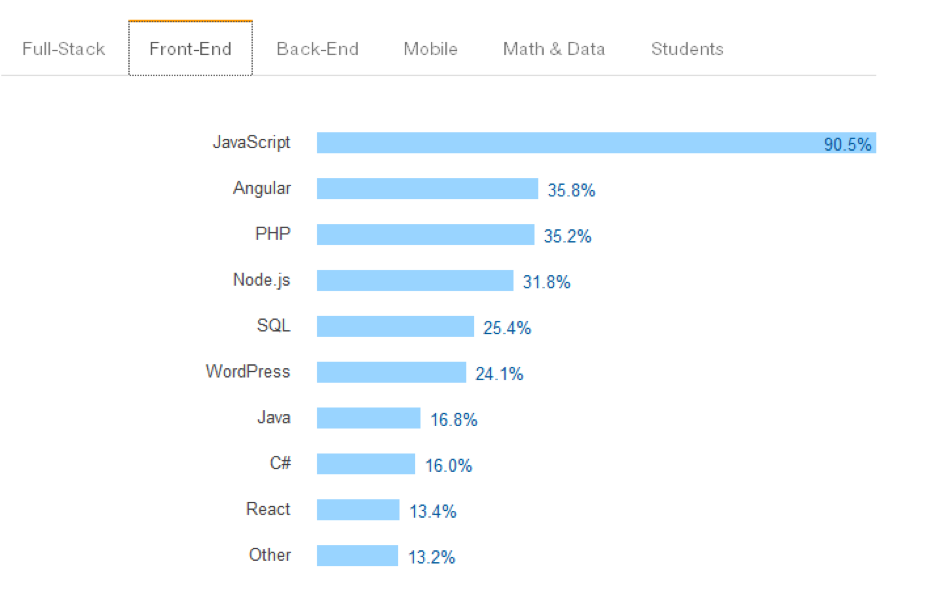 Image: Stack Overflow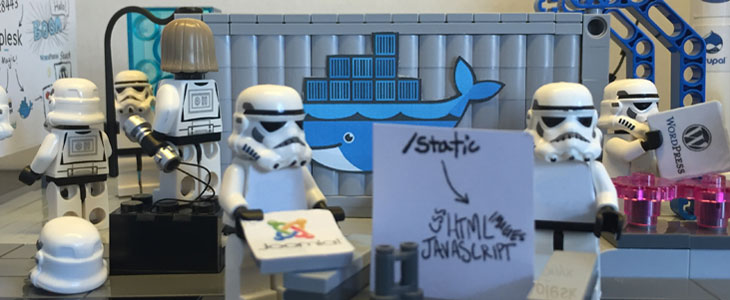 Image: Jedi Jörg Daydream
Trending Tech on Stack Overflow
"Growing in use, newer web-development technologies like React, Node.js, and AngularJS  are.  Yes, hmmm."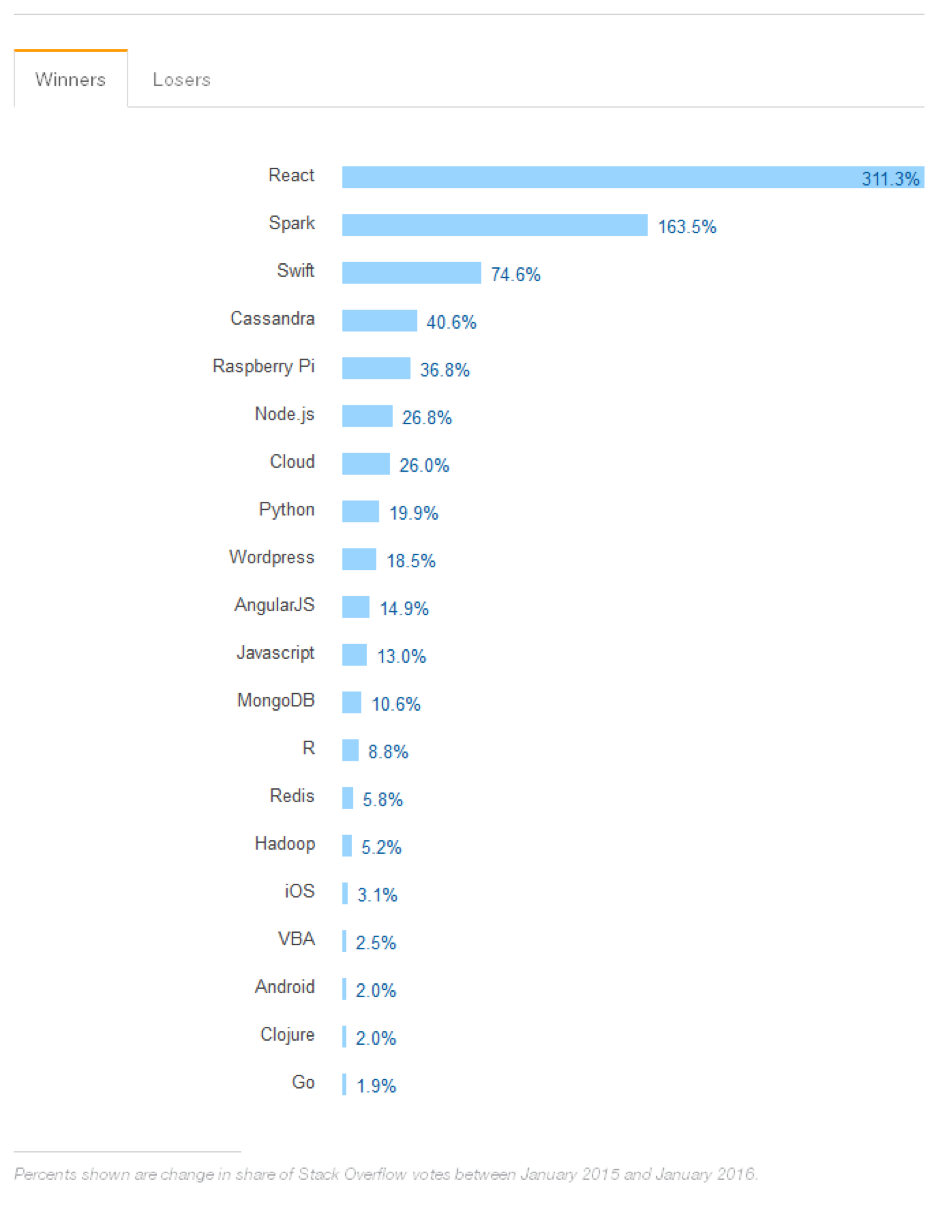 Image: Stack Overflow
Newer web-development technologies like React, Node.js, and AngularJS are growing in use. So is Swift, which is stealing market share from Objective C.
Developers appear to be dropping CoffeeScript, Haskell, and Windows Phone. And though the survey showed many developers want out of Visual Basic and WordPress, those technologies don't seem to be shrinking just yet.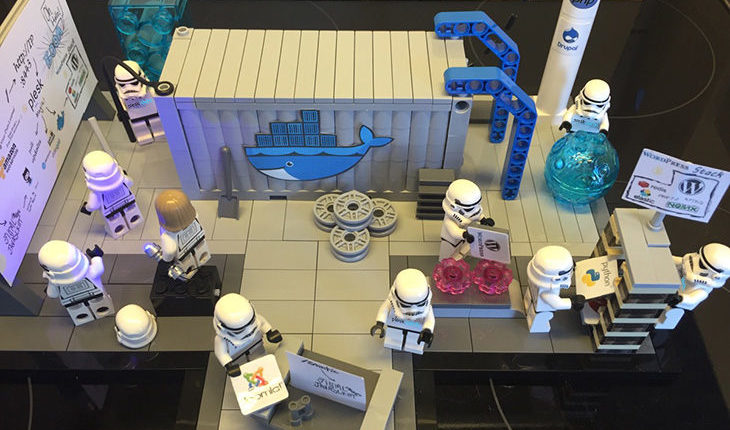 Image: Jedi Jörg Daydream
Every so often a new technology appears and disrupts the status quo. Docker is rapidly changing the rules of cloud and upending the cloud technology landscape. Smoothing the way for Microservices, open source collaboration, and devops, Docker is changing both the application development lifecycle and cloud engineering practices.
Desktop Operating System
Last year, Mac edged ahead of the Linuxes as the number 2 operating system among developers. This year it became clear that trend is real. If OS adoption rates hold steady, by next year's survey fewer than 50% of developers may be using Windows.
Speaking of the Linuxes, Ubuntu is tops among them with 12.3% of the entire OS market for developers. Fedora, Mint, and Debian accounted for 1.4%, 1.7%, and 1.9% of all responses, respectively.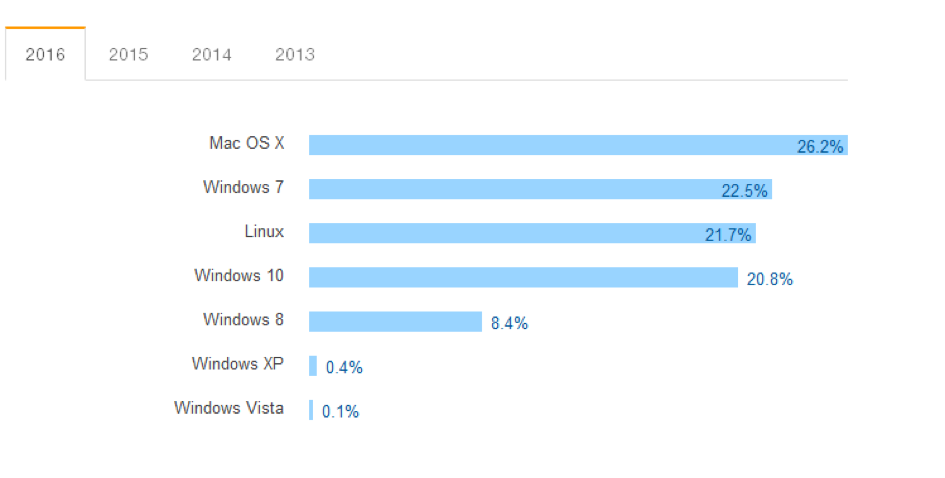 Image: Stack Overflow
Self-taught Developers Went Way Up
"Partly Self-taught, 69% of developers said they were.  Yesssssss."
Education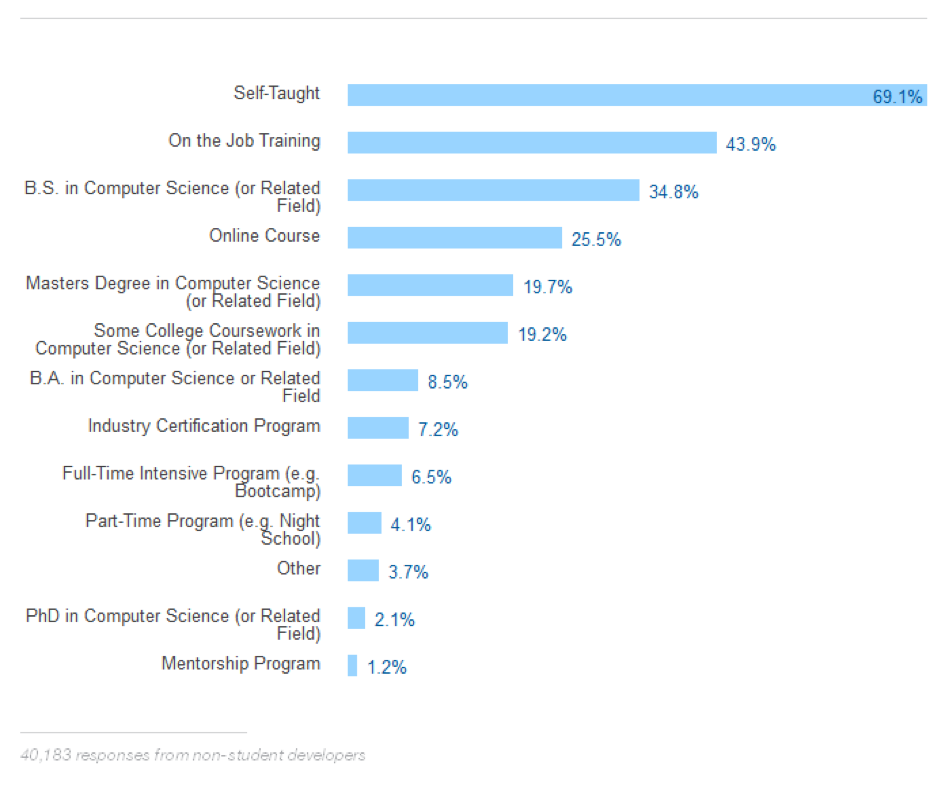 Image: Stack Overflow
Last year, 41.8% of developers said they were self-taught. This year 69% of all developers shared they are at least partly self-taught. 13% of respondents across the globe tell them they are only self-taught. 43% of developers have either a BA or BS in computer science or a related field. 2% of developers have a PhD.
There are at least nine male developers for every one female developer.
Gender

Image: Stack Overflow
The survey results show that we do not have enough women in tech. This is news to no one. But a 15-to-1 ratio of males to females? This is much wider gap than most people realize. And looking at the age distribution of female developers sheds some light on why.
"Do or do not. There is no try."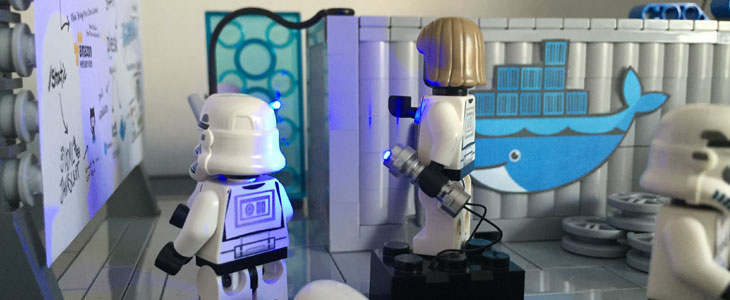 Image: Jedi Jörg Daydream
There are far fewer female developers in their 30s and 40s.
"When nine hundred years old you reach, look as good you will not."
Gender Distribution per Age Cohort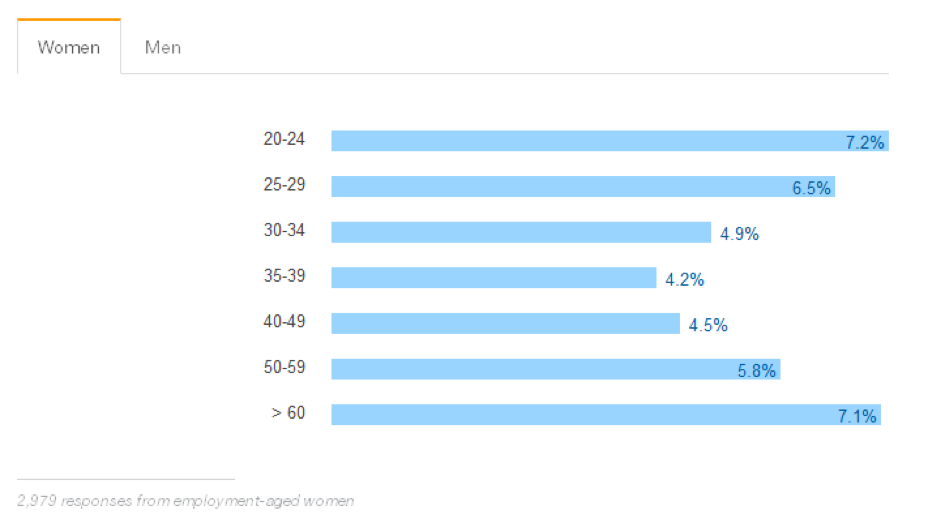 Image: Stack Overflow
Most female developers are either in their 20s or over 50+ years old. While women make up about 6% of total respondents, they make up an even smaller percentage of respondents in their 30s and 40s. On the other hand, this indicates that a generation of women might've chosen not to work in software development or tried it and evolved to other positions within their organization.
Unrealistic expectations are the most common workplace gripes.
Challenges At Work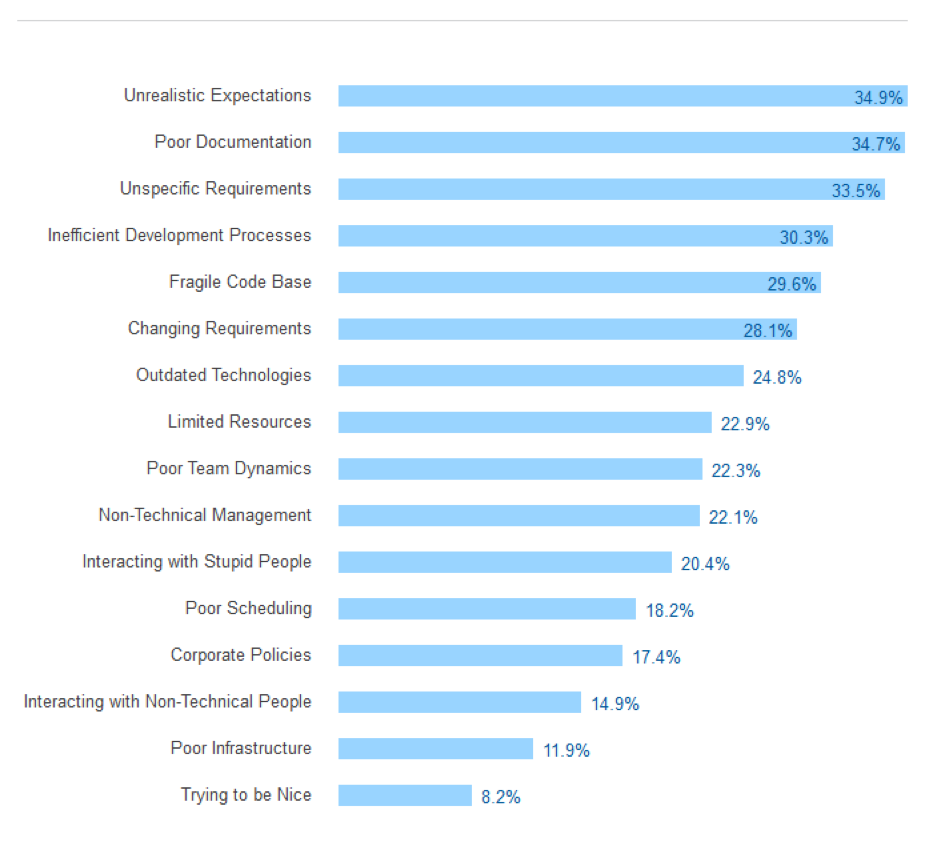 Image: Stack Overflow
When asked about the biggest challenges at work, the respondents answer "unrealistic expectations" the most often (35%) while "poor documentation" (35%) and "unspecific requirements" (33.5%) were close behind. Developers feel these challenges increase as they become more experienced.
May the Force Be With You!
Please share if you enjoyed reading through these findings. You can check out the full Stack Overflow survey here.
[1] All quotes provided by Jedi Jörg Daydream – A Padawan Learner from Nubia …it's powered by Plesk!